Simply complete the form at right and at least once a month you'll receive a newsletter (or newsletters if you cover multiple topics) via email in which you'll discover authors and other experts you can interview for your radio/TV program, blog, teleseminar, webinar or podcast.
Many are also available to contribute guest posts to blogs (or articles to print publications).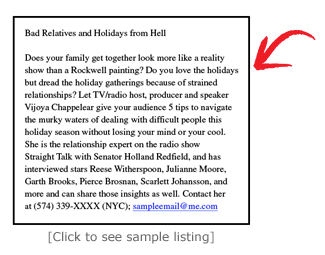 Each expert's listing includes a concise summary of what they can talk about as well as their contact information such as email, website and phone number.


We'll always respect your email privacy.
See our full privacy statement here.
v2